Solar energy is gaining ground in the face of the current climate crisis and the need to rethink energy consumption. In addition to its environmental benefits, this source of energy is an interesting economic alternative for communities and companies, as well as an efficient way to electrify isolated areas.
For public or private lighting, video surveillance or outdoor advertising, solar energy can be used to power off-grid systems. For this, 4 components must be combined: a solar panel, an installation mast, an output to be powered (LEDs for example) and a solar battery.
The solar battery plays a crucial role in the storage and transformation of solar energy into electricity and is the central element of the solution. Equipping a high-performance and safe solution allows manufacturers of off-grid systems to take full advantage of the benefits of solar energy.
In this article we will look at 5 strong points of Belios solar batteries that make them ideal for setting up your off-grid solar system*.
*Off-grid solar system: installation that operate off-grid using solar energy
1 – 100% French solar batteries
Belios solutions are entirely designed and assembled in France. This design is carried out by in-house engineers and electronics experts and allows us to guarantee each of our customers proximity and quality support in the development of their solar batteries or in the integration of our off-the-shelf batteries into their solutions.
For French communities and professionals, choosing Belios solar batteries promotes local design and reduces the environmental impact of transport.
2 – Plug and Play batteries
Plug and play solar batteries allow immediate use after installation of the battery on the off-grid system. This type of battery saves time for both the system manufacturer and the end user.
Belios batteries can be set up quickly and easily for any solar installation.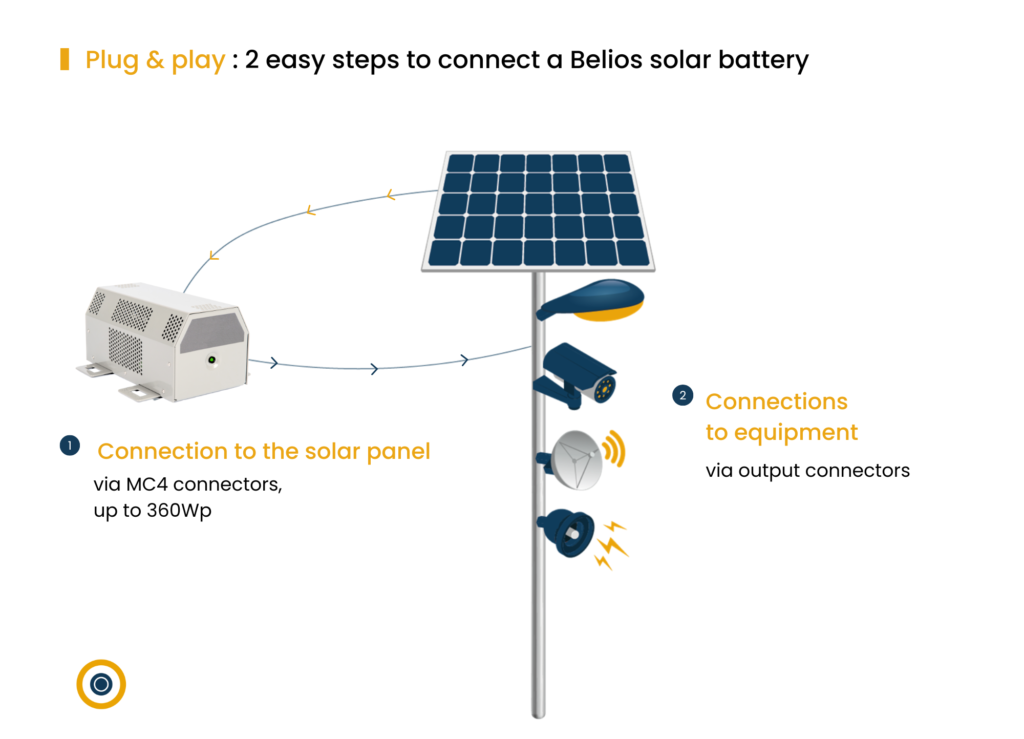 3 – Guaranteed operation 365 days a year
The autonomy of a solar battery refers to its ability to manage energy storage between sunny and sunless periods. In order to guarantee autonomous operation throughout the year, manufacturers must ensure that the solar battery selected has a good energy density.
Belios offers a range of Longlife solar batteries using Lithium LiFeP04 (Lithium Iron Phosphate) technology. Thanks to this technology, LongLife batteries have an energy density 3 times higher than a lead-acid battery.
To optimise energy storage during periods of low sunlight, Belios integrates a SLIM card in each of its Lithium solar batteries. This management card allows a better balance between the periods of storage and use of solar energy thanks to two modules:
A MPPT (Maximum Power Point Tracking) module to optimise the solar charge during sunny periods
A BMS (Battery Management System) module to optimise the charge and discharge of the solar battery
4 – Longer life
In addition to guaranteeing the good autonomy of Belios LongLife batteries, the LifeP04 technology allows manufacturers of off-grid systems to benefit from a battery with a life 10 times longer than a lead-acid battery, without any decrease in performance.
5 – Resistance to all environments
Belios solutions have been designed to adapt to all environments thanks to their watertightness. For the most extreme environments, Belios has developed the Xtreme range, solar batteries that are resistant to wetlands, salty environments, high temperatures, etc.
This resistance is made possible by the technology used, Ni-MH (Nickel-Metal Hydride), which allows Belios to design solutions that are perfectly adapted to temperature variations between -25°C and +80°C.) This is an advantage over lead batteries, which cannot withstand temperatures above 40°C.
Would you like to know more about our solar batteries? Our commercial and technical teams are available to provide you with more information and to discuss your project. Please contact us.